BUSY At Work is your experienced local Australian Apprenticeship Support Network Provider and since 1998 has played a key role in growing Australian Apprenticeships and Traineeships. BUSY At Work delivers Apprenticeship Services in Queensland and Western Australia. We also deliver these services nationally through our strategic partnerships.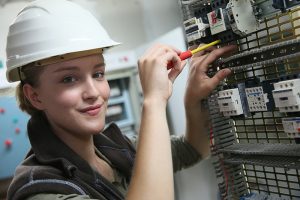 BUSY At Work Apprenticeships Services is an Australian Apprenticeship Support Network (AASN) Provider and is contracted by the Australian Government to provide advice on apprenticeships and traineeships and to promote and administer incentives for apprenticeship opportunities through the Australian Apprenticeships Incentive Program. Over the years we have established a reputation as the specialists in apprenticeships support services. We provide consultation to businesses to identify training needs and advise on the Australian Apprenticeships Incentive Program.
We provide the most up-to-date information, administrative assistance, support and advice to individuals, job seekers and current apprentices and their employers as well as existing workers, school students and numerous other stakeholders. We do this by:
Providing individualised screening, testing, streaming and matching services to help select the most suitable apprenticeship, occupation or training pathway.
Providing you with the most accurate advice and information to suit your business.
Working with you to identify the right training for your apprentices to ensure they get the right skills for your business.
Visiting you at your workplace to complete your paperwork and induct your apprentice into their qualification.
Assessing your eligibility and processing claims for available government incentives.
Taking the financial and administrative burden off you and make it easier for you to invest in the best career path.
Helping you to complete and lodge your paperwork.
Keeping in touch with the employer and apprentice to make sure you're on the right path.
Providing targeted services for employers and individuals assessed as needing additional support to complete the apprenticeship.
Are you in Western Australia? CLICK HERE!
Welcome To The Apprenticeship Community
In Western Australia? Looking for information about Australian Apprenticeships? We are delighted to announce that BUSY At Work has partnered with CoAct to deliver tailored Australian Apprenticeship Support Network (AASN) services in WA.
Together we are known as The Apprenticeship Community, and we are the only community based, not-for-profit provider of AASN services in WA.
Our services are designed specifically for WA employers and apprentices, and we provide advice and support for participants throughout the apprenticeship lifecycle – all the way from pre-commencement to completion.
The Apprenticeship Community has a strong focus on community, and we use "the power of many" to ensure opportunities are created and support is available to assist employers and apprentices in their partnership to success.
We demonstrate a passion for people and what we do and our impact is powerful.
To find out how The Apprenticeship Community can help you, visit our dedicated website: www.apprenticeshipcommunity.com.au
To speak to one of The Apprenticeship Community's friendly staff, phone (08) 6165 3362.
THE BUSY GROUP LTD trading as BUSY At Work is a service provider contracted by the Australian Government as represented by the Department of Education and Training to provide support services to prospective and current employers and Australian Apprentices. THE BUSY GROUP LTD is one of a number of Network Providers in Queensland and Western Australia. This website does not represent the Australian Government, if you wish to access information about the Australian Apprenticeships, from the Australian Government you should access the Australian Apprenticeships website.